Tussah Silk Yarn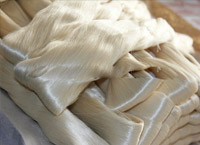 Tussah silk is a wild silk fibre that has all the health properties of cultivated silk, such as very warm for its weight, very breathable, wicks away moisture without feeling clammy or wet, the electrical properties energize the body of the wearer.
Wild Silk has a bit more 'tooth' and less sheen than Mulberry Silk. It has wonderful drape, and is ideal for shawls, while also great for weaving.
We are offering Tussah Silk Yarn:
• 100% Tussah Silk
• Lace weight. Dependent on pattern.
• Hand wash, dry flat.
Enquire Now